Summer 2012: Rare Mussels Protected During Dam Removal
Biodrawversity scientists conducted the first stage of a study on the effects of dam removal on freshwater mussel populations. This work was part of the Penobscot River Restoration Trust's Great Works Dam Removal Project in Maine. Construction crews carefully removed the dam piece by piece over the course of the summer; as water levels in the impoundment dropped, we helped volunteers move hundreds of rare Yellow Lampmussels and Tidewater Muckets, as well as many thousands of common species. In total, nine resident mussel species were found and relocated to deeper water. All rare mussels found were tagged and placed in secure plots. The tagged mussels will be monitored in years ahead, and overall mussel populations will be assessed to determine the effects of dam removal on this important local resource.
Biodrawversity is a regional expert in freshwater mussel indentification and survey work.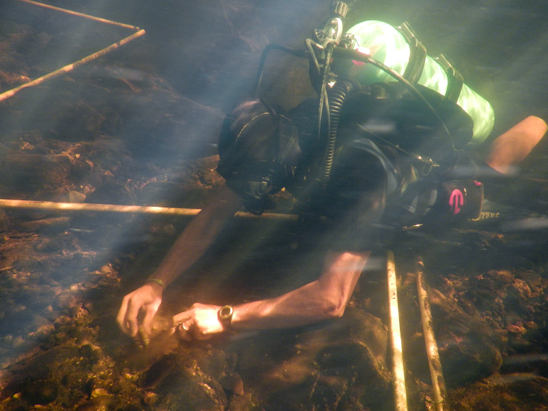 For more information on this exciting project, please see PRRT's website: www.penobscotriver.org